Communities In Schools Model (When You Hear This Rhetoric, Go Find Those Tax Returns!) From Oct. 17, 2016: Feb 2018 Intro on Continuing Relevance of Awareness of CIS and Related Models [Publ. Feb. 23, 2018].
Communities In Schools Model (When You Hear this Rhetoric, Go find those Tax Returns!) From Oct. 17, 2016  (short-link ends "-8Fb"; moved here 2/17/2018.  Hate to waste all that earlier work by not publishing it!)
Extended Version of Title, same link: Communities In Schools Model (When You Hear this Rhetoric, Go find those Tax Returns!) From Oct. 17, 2016: Feb 2018 Intro on Continuing Relevance of Awareness of CIS and related models. Currently about 11,400 words.
---
The term "Communities in Schools" represents a national nonprofit and its similarly-named affiliates, although these are NOT considered "related organizations" at the tax level.  To its credit its recent tax returns or financial statements are posted at its main website under the link "Financial Information."  I posted tax returns for the national organization and at least a few affiliates at the bottom of this post. I was interested that the national organization increased its "Total Assets" by $5M over just two years, to $56M, for the year ending 2015, and that (on a more recent website check) its mostly-male board of directors did have six women, including the former First Lady of Texas, and other powerhouses. (Shown with the bio blurbs below the "affiliates" map image.)
Here's a recent Map from their "affiliates" page of "Where we are" for a general concept. Note: having an entire US State colored in doesn't necessarily reflect how much of a presence (or what size operations, how many schools they're involved with — or in fact, much other than a location) throughout that entire state.  And there are some "multi-state" affiliates listed.
Communities In Schools, Inc. (national) board of directors each has a bio blurb.  Out of 24 total (incl. former Educ. Secretary under Pres. Obama, Arne Duncan; above three images), here are the six women so privileged in slideshow format (some bios may take two — Chairman Elaine Wynn's takes three — images):
This slideshow requires JavaScript.
Interesting while the FY2016 and FY2017 audited financial statements are posted, no tax return past FY2015 (Fiscal year ending Sept. 30, meaning, now (Feb. 2018) that's considerably "odd."   Also, the latest tax return says financials are "available upon request" when they are made available (except tax return for 2016, so far) on the website. Also while the tax return specifies only "children in schools" it's clear from the website that, children in poverty, esp. children of color, is the "issue" and this nonprofit's main focus.
Also, unspoken but fairly obvious, "Schools" is a subset of all legal schools within the country, and seems to mean PUBLIC schools; where poor kids are mostly warehoused…except those that have somehow broken out and gotten scholarships to better educational situations… (Keeping in mind that charter schools are still public, not private).
I'd like to raise certain financial issues up front here (for example, how the most recent available (FY2015) tax return shows "Gross receipts" $40M+ but Revenues less than half that, which were overspent, too.  Why such a difference was found on "Statement of Revenues" which showed $25M of securities sold for $26M+ — i.e. at a loss. … Then there's the matter, showing in Form 990 Part XI (Reconciliation of $$ differences between tax returns and audited financial statements) a $56M "Donated Services" reported as shown on the FS but NOT on the tax returns (for an organization reporting total assets of $56M at year end on the tax return.  Turns out that $56M "Donated services" were in media, and from one of its major subcontractors, Causeway Agency.  Having received the $56M, they simply expensed out the exact same amount (an accounting tactic?) on the FS).
I have decided against putting together the exhibits up top.  See their "Financials" page for the links.  This is fascinating, but for later.  Except the following image gallery(!)
This slideshow requires JavaScript.

I have many posts in draft.  Some are there deservedly because they're too long, or not focused enough on a primary theme… that doesn't mean much effort wasn't put into them.Sometimes, having put in the effort, I'll think a post has been published when it hadn't been. That happened recently for the post (subtitle, and exclamatory description (from mid-October 2016) based on my recent research):
Other versions of the same title:   What's this First Five Years Fund and the MANIC drive for universal preschool,* home visitation, and birth-to-five programming (at least for the future working classes) got to do with the family courts and divorce/custody matters, and marriage/fatherhood programming?

*(and in general the push by public/private partnerships = major elite wealth power bloc in the US) to insert more — and more — and yet more —  adults, "experts" into the lives of  as many children under 5 years old, as early as possible (shortly after labor and delivery — or sometimes, before birth)?  Do these people raise their children the same way?
---
I'm hoping to publish that post soon [I have since published that post] as it ties most directly into my current themes, one of which involves a professor who spent about fifty years at Cornell University in Ithaca, New York, and whose theories as a developmental psychologist are still influential in what is now almost commonplace there and in other universities — "Colleges of Human Ecology."
However,  organizations reported on that earlier post still in draft, "Where "First Five Years Fund" and the Manic Push for ever more: Universal Preschool/EARLY Head Start meets the National Fatherhood Initiative's purposes within TANF.…", had links to websites and logos already expired, though they weren't that old; so it needs more "repair and refurbish" before it can be published (also dealing with a different public/private project within an urban school system).
Meanwhile (pending detailing and publishing that post)[[now done//LGH]], I've pulled a section on the "Communities In Schools" network from its belly, resulting in this one  and added an introduction, probably doubling its size, but bringing it to the current on related topics, while keeping it still reasonably short.
While working on both posts, as anyone with exposure to major print, cable, internet, or other MSM news in the USA now knows, I heard, read, and saw that there has been another school shooting, in fact a "Valentine's Day Massacre" of 14 students and 3 teachers in Florida, which: is addressed in this general context below; inspired me to go look at the overview (including its financials) of the district in which it occurred; and which, under that school district's title I'm resolved to post the findings, as compared to ongoing headline news on the topic.  For example, I hear President Trump is now suggesting "gun-adept teachers who love the children" be allowed to do concealed-carry within schools, ceasing to advertise them as easy targets via "gun-free zones."
While that concept has plenty of strategic  / implementation issues, I'd say it's one step better than forcing most of ## the young children in the country into increasingly (as they get older, i.e. elementary to middle to high school) crowds in central locations labeled "gun-free" and where the desire to not completely turn them into a military institution may have less than adequate protection from kooks and crooks, internal or external.
## Don't forget the "elite" or wealthy families still have other schooling, i.e., private options and, despite attempts in at least California to eradicate [that competition with the virtual monopoly on K-12 education], that there is also a significant legally home-schooling population, who typically don't tend to accumulate massive (and the Florida high school was apparently massive — over 3,000 students and a large campus) assemblies of minor children daily into places where they can be shot en route to being educated — I'll bet he's not the first person who's had the thought, but didn't dare publicize it.
What I'd like to know is why isn't "making the target smaller" ever put on the table as an option.  Because it's political suicide?  Because the infrastructure investment is already so huge nationwide?
---
Since the many things over many years that have "befallen" my children while still children, and myself as their mother and as a woman, and a member of this particular family line (speaking of my shared-DNA relatives and their [male] partners) — things  involving domestic violence issues, family courts, AND arguments over schooling which go with a typical abuser's intent to control and/or undermine the other parent as thoroughly as possible by any means possible — the two major "venues" (public institutions) which MOST concern me about this country's future vis-a-vis its motto, reputation, and public claims to be better than others when it comest to liberty, justice, and such things, have been the family courts and the public school systems.  Between them both, they have massive influence and control over the lives of MOST young people.
In our (my family's) case, a war to control that generation had significant casualties and avoidable costs apparently by design.
It has been truly ugly and was at all points unwarranted, every bit as much as slapping around one's pregnant wife in front of a  toddler in the home, shoving, kicking, throwing her to the ground or up against a wall, or throwing heavy things at her, and (furthermore) repeated assaults (rushing with intent to batter) where the target was able to (narrowly) avoid being hit [battered] — that time.  (I speak as the target at that time, and that's definitely a partial list of types of incidents, plural, which led to my filing for protection. By saying "types" there were enough repeats with each type to merit sorting the list into categories). The battering stopped, but the war continued; it only takes one to assault; if another resists — is that person equally responsible for the "war"?
The war for physical, mental, and psychological control of children for profit is already being waged in the family courts and across the public school system in combination with compulsory schooling law effectively maintaining a caste system, such that those who may not have to avail themselves of such schools might continue to have good, smart workers (employees, including middle managers) — not corporate competition!
This is intended for eventual control of most of the population, that is, the country.  Asserting control of children has long been an effective (if not 100% effective) strategy for controlling one or both of their parents, particularly good ones who wouldn't want to jeopardize their safety by antagonizing their existing controller/s. Slaveholders certainly understood the principle.
Thankfully, my offspring survived at least physically being forced into a major, large urban public school system after being stolen from my care and home as their mother, long ago.  I wouldn't wish hard choices of this kind on any one; but younger parents are still facing them, and will continue to, including potentially within my direct descendants (no, I am not a grandmother yet!)
That's why I say: comprehending how and by whom the schools (NOT just the courts) are being run still matters and always has, with or without the shootings. And by  "schools" I see it's appropriate to also consider the secondary levels, that is public university systems within which the untraceable "Centers" tend to  set up operations.  What about financial accountability there?
At a minimum, let us ALL develop a coherent comprehension of what is a public school district, versus the schools it manages or runs, and how the districts as distinct government entities within states differ from state or county government, including in how they are run, while fulfilling a forum in which compulsory education laws K12 can be met by individual parents or other legal guardians.  All this is a matter of laws, finances, and investment in major real estate, infrastructure, and the administration and staffing of it. The quality of public schools has played a major role in the development of the USA and its civil rights movement, politics and laws.
Wouldn't NOW be a good time to get a grip on some of these, instead of listing name after name, properly categorizing what one is dealing with when names — such as "Communities In Schools" or any other — come up?
In addition, I also talk often about psychology and psychologists because it's hard to differentiate in practice from educators.  The fields overlap.  There is no U.S. Dept. of Psychology — there is the U.S. Department of Education, and the American Psychological Association (and many more).  To look at USDOE and the school districts fairly requires also a look at the background of some of the influential psychologists.  "coincidentally" the same profession is heavily active in the family courts too (see "AFCC" membership for an overview — look at what the PhDs of Board Members, for starters, have historically been in.  Not all J.D.'s!)
ABOUT THAT POST ("Where "First Five Years Fund" and the Manic Push for ever more: Universal Preschool/EARLY Head Start meets [the NFI]'s purposes within TANF… ," not THIS one) and ITS CURRENT CONTEXT:
Two Cornell graduates running co-conferencing centers had acknowledged being trained under him (not necessarily at the same time). Their projects had already caught my attention as relating to  — specifically — even (one) the development and establishment of a family division within the state of Maryland, and the other had founded a nonprofit ca. 1991 which — "go figure" is positioned to run, and is running, divorce (parent) education programs, trademarked, of course — and selling related books.
That's why I went looking for the earlier post I'd remembered as "published" when it wasn't — featuring the developmental psychologist whose name is featured in the above post title.
This gets even more relevant to common topics within the family law field when I learned through a basic biography search of Urie Bronfenbrenner (<==Britannica.com; 1917 Moscow, Russia -2005 Ithaca, New York) that his theories and beliefs regarding child and human development was developed in part working with a Stephen J. Ceci (<==his 'Wiki') also at Cornell University.  Why? Keep reading:
Ceci got his bachelor's and master's in the USA, but his PhD in University of Exeter under a Michael Howe. His Wiki doesn't even reference Bronfebrenner for some reason.
---

Stephen J. Ceci is an American psychologist at Cornell University. He studies the accuracy of children's courtroom testimony (as it applies to allegations of physical abuse, sexual abuse, and neglect), and he is an expert in the development of intelligence and memory. … [EDUCATION:] Ceci received his B.A. in 1973 from the University of Delaware, his M.A. in 1975 from the University of Pennsylvania and his Ph.D. in 1978 from the University of Exeter, England, where he studied with Michael Howe. He holds a lifetime endowed chair in developmental psychology at Cornell.  [Nat'l Boards]: He is a member of five national advisory boards….

---

Ceci introduced in 1990 his "Bio-Ecological Theory of Intelligence", which holds that the level of mental activities or IQ are dependent on context. For example, he says traditional conceptions of intelligence ignore the role of society in shaping intelligence and underestimate the intelligence of non-Western societies.[2]

---

Ceci's article (co-written with Maggie Bruck), "The Suggestibility of Child Witnesses," won the 1994 Robert Chin Memorial Award for the most outstanding article on child abuse. His book (co-written with Maggie Bruck), "Jeopardy in the Courtroom: A Scientific Analysis of Children's Testimony," on the credibility of children's testimony in child abuse trials, received the 2000 William James Award for Excellence in Psychology.[5]In 2003 Ceci received the American Psychological Association Award for Distinguished Scientific Applications of Psychology.[6]****

Ceci has been the recipient of major lifetime achievement awards in psychological science, including lifetime awards from the American Psychological Association (2003), the Association for Psychological Science (2005), the American Academy of Forensic Psychology (2001), and the Society for Research in Child Development (SRCD) (2013). In 2015 he received the Edward L. Thorndike Award for lifetime contribution for empirical and theoretical research.
****Stephen J. Ceci's Britannica.com (but not Wiki) bio also referenced a joint award from the APA "Distinguished Scientific Award for the Applications of Psychology in 2003 with Elizabeth J. Loftus, only the 4th woman in decades of this award to have received one (of which two women incl. Loftus were joint awards, one of them joint with her husband (Chapman)). The first woman to receive the awards did so in 1981: Anne Anastasi (1908-2001) who'd chaired the Fordham Dept. of Psychology from 1947-1979 (retirement) and was APA President in  1972,"the first woman in over 50 years to do so." (Anastasi's APA biography) She was also married to psychologist John Porter Foley, Jr. for 60 yrs  (1910-1994; see brief obituary bio for his research focus). No children are referenced…Anastasi's 2001 LA Times Obituary (it's short; pls. read!) also references a 1987 award, shared with B.F. Skinner, from then-President Reagan for developing "Differential psychology" as a behavioral science: "Anne Anastasi spoke of Cultural, Racial Fairness in Testing."  The NYT Obituary adds more details, including how she (apparently at about age 13) entered a preparatory school mostly intended for "adults who wished to attend college" (Rhodes Preparatory), by 15 had enrolled in Columbia.  She was also homeschooled by her grandmother until age 9 while her mother worked, her father having died when she was only 1 year old.
Although women couldn't even vote in America until 1924, and although there was no Social Security Act until 1934 — somehow being raised by two women and NOT enrolled in a public school system from pre-K through 12th grade, and being fatherless, it seems this combination worked pretty darned well.
Elizabeth J. Loftus (currently a Distinguished Professor at "SocialEcology.UCI.edu" (UCalifornia Irvine) made a name early in her career (in the 1970s) for her work regarding "False Memory Syndrome," that is, false memories of having been abused as a child, among other things and the "malleability of memory."   Her field, and her husband's (married for about 23 years) was, of course, psychology, BA (with math), MA and PhD.  You can see how this would dovetail well with claims of parental coaching among children resisting visitation or claiming abuse.  Loftus and BOTH the Chapmans (Loren, Jean) show up on False Memory Foundation website as "Advisory Council" for those who care to look it up.
Between the awards, grants, publications, and honorary doctorates (at home and abroad), it appears Dr. Loftus has been a real hero to those already in power in capacity to dismantle or discredit eyewitness testimony of, specifically criminal activity, and to do so as an expert in court settings.  (For that last statement, browse the 45 page resume, found at faculty website, current it says, through October, 2017. I annotated some of it:  Eliz Loftus' 45pp CV (@Oct 2017) fr SocialEcologyUCIedu (BAMath+Psych UCLA 1966|MA+PhD Psych, Stanford (1967, 1970), FSM stuff ca 1974, Career 'MADE' ever since ~ vitairvinemark10-17)
So, overall, it gets rather interesting when family law professionals trained up under these conditions seek training positions over others (whether law students and future lawyers, or parents undergoing life "transitions" through involvement in, say divorce, custody, child support, with or without domestic violence, and child abuse issues on the table.
Did I mention that both individuals are obviously AFCC-loyal and active, and that the latter person's books (along with the co-author who also co-founded the nonprofit), in fact a number of them, are featured on  FamiliesChange.CA.gov resources (books) page?
Which must all just be coincidence — but I do not think that their mutual (if not simultaneous) mentoring (training) under a famous psychologist at Cornell was coincidental in what they are now doing for a living.  It has to do with the entire mentality of ideal human development as produced by the right conditions — intrinsic to this man's theories.   The zealous professionals (one in mental health / therapy, the other in law — or mentoring, leading, and training young — or next generations — lawyers in the context of a center at a law school), both women seem to have swallowed that rationale; it being obviously (?) so "right" there shouldn't be a problem with force-feeding (court-ordered) as many others as possible, for their own benefit too.  Apparently.
Organizations reported on that earlier post still in draft, "Where "First Five Years Fund" and the Manic Push for ever more: Universal Preschool/EARLY Head Start meets the National Fatherhood Initiative's purposes within TANF.…", had websites links already expired, though they weren't that old; so it needs more "repair and refurbish" before it can be published.
Meanwhile, I've pulled a section on the "Communities In Schools" network from its belly, resulting in this one. To which I've added an introduction, doubling its size, but bringing it to the current on related topics, while keeping it still reasonably short.
About this post's original cargo (contents transported from an older post):
I remembered in 2016 researching, extensively, education reform nonprofits, as they were networked and aligned either politically left/progressive or politically right/more conservative — and both networks saying they were necessary to counter the other's actions (Good Guy/Bad Guy rhetoric).   I had previous published posts referencing Communities in Schools, had established a (desktop) folder (further research) on it already, but not yet gotten around to posting more specifically on it.
At the time, I was taking "Education-Transformation-Trademarked Nonprofit Networks" (<==my label. 'ETTNNs'? Maybe.) a few at a time and posting details, to raise awareness of (1) just how many such networks there are and (2)looking at their financials, how and where they operate, including (some) going "underground" for a season, pouring assets from one into another nearly identical — but different EIN#s; and overall, having established some trademarked program, encouraging (successfully, obviously) people to set up state, local, regional, or county-based nonprofits by similar name running the same programming — but staying fiscally "independent," such that finding a reliable list of which ones are current and operational would be a time-consuming research project, if even possible no matter how much time was invested…
WHY:
Umbrella organization websites generally aren't guaranteed to be current, and moreover, don't show related or affiliate organization's sizes, ages, or cash flow among the same. They are there for promotion, not real self-disclosure.  They exist  to induce public appreciation (to the degree the public is even aware of the programming) and continued consent/approval to the business models involved, and generally speaking, to include a "DONATE" button and boast about important organizations (and/or government entities) who are already supporting them, i.e., "crowd appeal."
(An example below for the organization "NESRI" – – National Economic Social Rights Initiative, primary project "Dignity In Schools" Campaign:  Dignity In Schools website has a "Donate" button which led to "NESRI" (also with a Donate Button) which is how I heard of it.  I heard about "Dignity in Schools" through a footnote from another entity I mentioned in this post…who'd held a "Children's Summit" which was being quoted, alongside another article from the Family Court Review, and another from a Temple University Law Review. [Does a publication from a nonprofit-convened conference really stand alongside law journals in style, quality, and content?]. Slideshow has seven images w/ captions on some. Use navigation keys provided.
This slideshow requires JavaScript.
So the umbrella or so-called "parent" organizations' self-descriptions and websites are, unless connected to another authoritative source (objective, independent) a good for showing intent, but usually — and in the case of "Communities In Schools" too — less than helpful for showing any measurable scope of activities FISCALLY.  Their IRS tax returns — if found (including all of the related organizations' and the umbrella one), drilled down individually and compared (connecting the dots) — MAY show more of this, but not comprehensively.  Trust me, too many people do not fill out the Form 990s accurately or consistently over time, either — especially when it comes to program service revenues, or program expenses (summary vs. supporting details).  The drill-downs are ridiculously cumbersome, even though I still do them, routinely, for information if nothing else on how the entity fills out its tax returns.
Also, organization websites are generally snapshots in time — and nonprofits can change yearly (failing to file, or continuing to file but changing name, getting revoked, cancelled or suspended — or started. Or operating for years with fiscal agents (concealing their project funds except as shown on someone else's IRS tax return).
Then, IF all that information were somehow obtained, compiled (in a snapshot or "core sample" in time) and then presented intelligibly to people who were — which most aren't — conditioned to even think in terms of total financial statements across a number of organizations and entities, understanding that no SINGLE one tells the whole story — and a public who fully registered mentally that BUDGET =/=  Balance Sheets (Statements of accumulated ASSETS & LIABILITIES] and that the larger picture is vital to comprehend. It is, after all part of the basis for taxation and the basis in "public welfare" for dedicating so much and giving up certain freedoms in exchange for anticipated benefits…
---
[Five paragraphs between the lines added post-publication 2/24/2018. , I'll tint the background light-blue].
Budgets are planning documents.  Assets are what is already held or owned, although obviously there's a variety of ways this can be expressed and accounting standards DO change at times — especially in "CAFR-world."  For public institutions and government entities, if the public served will not go look for the financial statements which reports handling of assets (and what revenues those might be producing in terms of investments), AND of liabilities (and the rest); that public does NOT know what's being done with its own collective life energies in terms of finances, that is money.  This will not be taught in most public schools, but should be taught by adults to each other.
The basis of taxation is service.  The financial reports (CAFRs), entity by entity, report what was done, for how much, and what are the reserves, debt, and all the rest. It's only responsible behavior to start local (your community, incl. school district), county, state, and federal. It's just words and numbers — basic concepts and vocabulary and the ability where needed to learn some more are involved, and a number sense are required in reading the reports. One way to develop it might be to SPEAK it with others who are likewise motivated to consider the material.  Unfortunately, many remain in crisis mode, and many also would rather not take personal responsibility and just re-blog others' work which does NOT bring this information up, or even hint at its existence, while "shining the light" on or publicizing problems in public institutions (the courts, the schools, law enforcement, etc.).
When those in power, government, civil servants (etc.) especially at the higher levels (State or Federal government, all branches, all agencies) realize they are dealing with an informed — not just by controlled/bought-and-sold media and conditioned rhetoric, but by having looked at the accounts, and realizing such accounts exist — it will be another day, across the board.
Those who DO know about these accounts, yet don't feel responsible to post them more openly, publicize (other than at the bare minimal level — it's on-line, IF you know it by name and are willing to hunt it down) what the CAFRs report, and how they also report on, by listing (or, as it applies for example to public School Districts vs. Counties NOT listing), are essentially treating the public like children, while still taking funds from them.
It's easier to manage larger groups of people when there is a significant information differential, i.e., what's not even known is less likely to be debated.  With these unknowns (for example, the public being used to fund debt on capital infrastructure which could, in fact, be self-funded from the profits on pooled investments) still having an impact, the discussions can then branch off into magical, mystical, religious or fantasy explanations for the impact.
---
These are intended to impact public schools and school financing, and as such, to impact and influence public spending on the same.
February 2018 Intro:  Stay Awake to Networks Promoting CIS or similar models!  
Reminders:
~ ~ >ALMOST ANYTHING regarding Public Schools or Improving them is Politically Live and Helps Sell Newspapers / Condition Readers Thinking to CONTINUE not comprehending what is a School District, versus the Programs it Runs, or Finding Out More by Searching out the CAFRs.
~ ~ >Awareness of MediaPlatforms and Their Ownership — sometimes by Fiscally Sponsored Nonprofit — and How MSM Platforms are  also Bought and Sold Internationally — or retained under private control for a century — will more effectively help personal comprehension.
~ ~ > More functional vocabulary than that provided by Media Platforms (major or minor / digital as shown on, for example, these "ETTNS" — self-publishing nonprofit websites featuring school transformation, infusions with better help, etc. — must be used to accurately describe public schools (this includes charter schools), school districts, their budgets, resources, and their needs.
..That type of understanding also goes for other public institution functions, including those which by definition of affecting children and involving children, are likely to be interacting with public school systems.  In other words, foster children go to school too, and quite often to public ones.  Foster parents, though how much may not be agreed upon, and maybe some get next to nothing, are also part of the financial "food chain,"  whether from public resources or even private (did you know one of the Casey foundations is involved in this?).
---
Readers might want to consider why public school transformation through private corporate models is such a "hot" investment option for so many wealth-holders, and — looking again more carefully at some of the boards of directors, whether of an umbrella (under a certain name — such as "CIS" here) nonprofit or a local member affiliated with it and under similar name — and ask, why are such powerhouse players so often involved in these operations?
As networks, both political sides (Democrats, Republicans in the US) utilized similar strategies and tactics and both were PLENTY flush with cash from major tax-exempt foundations eager to make their "social impact" force felt and be the good guys — when it comes to public schools.
"Communities In Schools" was one of the networks I'd noticed (they do tend to overlap with board members).  
That's who this (short) post deals with.  After the Introduction…which I expect to be about half the post in length.
What the public ought to, but probably won't in the near future, start to grasp is that public schools are government schools, and as such they are every bit as much the projects of school districts as any other project listed on a nonprofit entity, is also its project, its "program service activities."
For example (if you're listening to TV or major print media, or other, headline news, you'll know why THIS district), Broward County, Florida's District // Map of Schools within the Districts.  
[[TO BE POSTED SEPARATELY]].  Are these websites, featuring typically school BUDGETS communicating appropriately — and honestly — how schools relate to districts, how districts relate to the counties they are in, and to the state overall — and are they posting Comprehensive Annual Financial Statements for Districts as their own entities — and if they aren't — under their respective counties, as a component, discretely reported, or blended component of the reporting entity's CAFR?
THOSE are terms the public should be made aware of, for understanding of why they are being taxed, making sense of the numbers not just in the budget context, but in the overall context.    Students Ratcheting Up Anti-Gun Protests After School Shooting Wall Street Journal, p.A6 by Cameron McWhirter (Trump Open to Tighter Gun Checks, pg A1 "front and center with photo") after the shooting/s in Marjorie Stoneman Douglas High School in Parkland, Florida left 17 dead)
You can ascertain, or if you don't get around to this, I intend to prove just by posting, that this large school district (and probably — it can be checked — the other five ones yet larger, this being it says the sixth largest school district in the country) that the school districts are NOT listed as component or even blended component entities, or even reporting entities on the average County's "CAFR" report.  A list of County agencies at Broward.org is long — but not one is for education.  A list of its CAFRs with an organizational chart of the county, likewise.
Yet, at first glance, penetrating WHERE on "Broward County Public Schools ("BCPS") website the district's CAFRs are to be found requires some digging — and distraction is employed to discourage such digging, as well as putting them on the bottom half of a page labeled "BUDGET,"  with nothing on the top part indicating there's more substantial information below on a completely different topic — FINANCIAL REPORTS. What's more there are two "unadorned" (no real effort to explain anything to the public) — the ones on the left are "UNaudited" — but not so labeled.  The ones on the right are AUDITED — for the same years.  Also, typically people put the most current year on top, but here, they've pushed the most current year on the bottom of the list.
A look at the main BCPS website "About Us" for the district (similar color scheme to that shown above) has no top-row link offering anything regarding "financials." It took a lot of trial and error clicking to locate financial reports under "About Us/Budget" as the next few (5) screenprints (captions w/ orange background as shown on home page image nearby) show.  Compare this to, contrast it with, three images much further below (on the right)  how the county (Broward.org) website accomplishes the same tasks — showing its financials.
BCPS CAFRs –> FINDING THE PAGE THEY'RE ON:
Budgets are planning documents — for the future, or possibly in comparison to a recent short time span. They are not cumulative reports of an entity's holdings, debts, cash flow, activities, by category since "Day 1."
Governmental comprehensive AUDITED  financial reports (CAFRs) follow certain standards of reporting established by associations of accountants and for application across not just the USA but also Canada. The standards change over time, but the report contents must describe the filing entity's assets and liabilities — not just its budget or current cash flow.
The appropriate label for a web page containing this vital information would more appropriately be "financial reports."  Broward
This County labels this quite differently, more professionally and makes it a lot easier to locate than the School District a.k.a. "BCPS"  Broward.org  [and its Parkland School Shooting Resources page] vs. Broward.K12.Fl.us which directs to "BrowardSchools.com* (and there's also a BrowardSchools1.com "website under construction") (*and that middle link's "Majorie Stoneman Douglas School Updates" [since the Feb. 14, 2018, aka Valentine's Day, shooting]).
K-12 Schooling as defined under state laws is compulsory in this country
.  Parents who cannot, or can but do not, choose to send their children to schooling
outside, other than
,** public schools, especially large ones, are in a real sense playing the lottery.  
How many school shootings over the past year inspired any one, parent or nonparent, to go look up the local district's comprehensive annual financial support ("CAFR") thereby locating the District in its perspective as a special purpose government entity within the State?
 How many began to comprehend the difference between budgets and total assets vs. liabilities and why we are so heavily invested in the infrastructures of schools — which
not only
have periodic shootings in some place,
but also
are (as with CIS and other nonprofits) becoming target markets for centralized agency outreach as well, i.e., being further propped up by more government spending.
**(As first published, this was stated improperly, meaning the opposite of my intent. I realize it's still stated as a double-negative meaning parents who DO send their children to public schools, whether by choice or for a lack of choice//LGH)..
I did.  And about a year ago I also, through looking more closely at a UCBerkeley Center for Cities and the Schools, came to understand more about financial time-bombs such as "Capital Appreciation Bonds" in various states, and who, with connections in Ohio and Colorado as I recall, and those involved with the UCB CC&Schools, was promoting them, to the detriment of taxpayers, down the line (searchable terms on this blog; basically it's a racket).
This time, I went to Broward County Florida, and Broward County Public Schools (that's two different places and websites) and first searched FOR the School CAFRs, then looked at a pattern which has emerged — the "UNAudited statements put out (SAFR — Superintendent's (UNaudited) Annual Financial Report) AND the later CAFR (same material, but audited, and produced a few months later) — and looked at where the largest assets and expenses were, as well as where the School District lies in respect to County (It's NOT part of the County administration) and the State.
---
---
"BCPS" is the second largest school district in Florida and the sixth in the nation, it says.  The District's CAFRs (unlike the County's) are buried in an odd place under "Budget" and far down on the page — not under a heading such as "financial reports."  The public is RARELY encouraged and often discouraged from taking a look at such things.
I hope/plan to post the documentation (links, images, some annotations, basic summaries) on this Florida school district as an example probably parallel to other school districts, especially larger, and urban ones. It has also come up before in association with other than "Communities in Schools" as being a favorite project of collaborative tax-exempt foundations (BIG ones), and summarized in journals philanthropists subscribe to, etc.  I already showed how "Coalition for Essential Schools" in Rhode Island "skipped town" (actually, the state), operated in California for YEARS while status revoked in Rhode Island, then returned to the East Coast with barely a slap on its wrist — in fact a state legislative action returning it to "Just as If" (this had never happened) status, provided it filed for the missing years' annual reports and pay the fees.  That was hardly even a slap on the wrist.
I also talked extensively about WestEd's failure to provide its own financial reports (CAFRs), though it sure has plenty else to say — and it does have to produce them.  It also was caught in an audit — but still operational, and still public-supported.
Having looked at these things, and witnessed with others (through the news, not in person) school shootings followed by increased outrage and demands for gun control and more mental health services to be dispensed IN the schools, AND having looked at some of the financing AND as a young person, a professional (teaching) and later a professional AND mother, I am opposed in principle to private entities OR the US public pouring more and more resources, government OR private, into any public school system until its books are opened.  People only tolerate continuing this pattern through lack of comprehension of the basic structure of its financing, or of a school district.  They have been so conditioned to talk of "BUDGET" and ("let's just not talk about the rest..").
People (You, Others) should read NOT just district budgets, but also district FINANCIALS . And until the people within the district are freely provided with a basic guide to understanding (although they ARE self-explanatory in coming with both Letters of Transmittal, Management Discussion and Analysis, and Notes to Financial Statements — and usually other required information (Schedules) by design specified by the regulating organizations, which I've ALSO posted about, to a degree, on this blog, over the years, as I was myself learning about them.
And people need to start spending some personal time looking at tax returns of "fix-the schools" or "fix the family courts" or "foster care" (or fix anything else related to central spending resources of the federal and state governments) who are already taking grants or functioning primarily through government contracts — which would be reported as "Program Service Revenues" on Pg.1 Line 9, and Part VIII, Line 2 of a standard (as of this date) Form 990, and start seeing some of the games being played with such tax returns by the various entities — inconsistent filings, MISSING INFORMATION, and conflicts of interest not reported as such.
For Example:
I found one yesterday (Feb. 20), a nonprofit started 2004, and associated with the website "DignityInSchools.org" running a campaign for LESS law enforcement in the schools.  I had found the website "Dignity in Schools" in the footnote of a pdf associated with an organization I reference in this post.  (Image appears larger, further below).
Only "Dignity in Schools" isn't an organization, but a project of the New York Nonprofit "National Economic and Social Rights Initiative, Inc." which didn't post its financials on there, was soliciting, then simultaneously posted a list of donors over time; major foundations.  The level of evasions, inconsistencies, "not credible" reports (for example, executive director working 40hrs a week for nothing; first showing, then disappearing, on list of "Board of Trustees, Directors, Officers, Key Employees" over time.  A grant of $260,000 was alleged — but to whom not shown (pre-2008, when the IRS form changes required a Schedule I — or "F" if outside the USA and its territories — to report grants).  NO OTHER YEAR was any grant reported.  In 2008, when the standards changed, it filed a Form 990EZ, avoiding reporting how much salary was paid.  Year after year, details required to be posted in "Schedule O" to support excessively large amounts in parts of the return (typically the ones labeled "Other Expenses") were described only in part (i.e., the amount referenced was much larger than the amount described, and then the "description" only repeated the description in the main part, i.e., "Program expenses"  — not, "for what?"). One year, Page 1 said "Program service revenues" was 0, while page two under the same label, for "program service Activities:  Expenses including grants, and Revenues" — hundreds of thousands of dollars (for each category) were reported — but only in that year, and those amounts matching nothing on the return — except possibly INcoming revenues — not what that space is for.
Who was signing off on these?  The same Executive Director year after year, also in whose care the books were held.  Come to find out, eventually, the same person had a J.D. from Columbia University School of Law, and was an alumni of its (1998ff) "Human Rights Initiative."….  How can there be "international human rights" when the US Leadership, sporting quasi-Ivy-League academic connections — a lawyer can't fill out a simple tax return consistently, ethically, and honestly over time — or just won't?  Does it somehow not matter?
In mentoring human rights lawyers, does no one feel responsible to mentor, say, tax returns of nonprofits spun off and using the university name as a point of reference?
---
In 2016/2017 (more posts still in draft, along with my own recall, remind me) I looked hard, and a long time, at certain university-based centers or institutes, including Schools of Communication set up by the Annenberg wealth (at University of Pennsylvania, and University of Southern California — which FYI is private, not part of the state system).  Meanwhile Annenberg wealth was active also in school reform (as I recall — see blog for more exact names) in Chicagoland and of course at the AISR at Brown University, for which I found a corporate record but NEVER any (ANY!!)  tax return.
I also remember a post questioning why a $10M grant to a certain association didn't result in a visible project anywhere near that amount of quality, and other aspects of failure to find alleged grants – -in the millions of dollars' worth — from Annenberg entity.
RECENTLY (within the last week; I'm saying this Feb. 18, 2018) over a one-and-a-half day period, I was stunned to run across a "Chronicle of Social Change" article — this not regarding education, but regarding the topic of foster care and adoptions — commending a process which looked like, what had already been done for Title IV-A and IV-D under the Social Security Act, was now being done (Pres. Trump had just signed a law) for Title IV-E; the general concept being, give the states more flexibility in how they use their funds, rather than strictly for legislatively-mandated uses.
! ! ! (my initial reaction)…
To get to the point here — Chronicle of Social Change is published by Fostering Media Connections (The nonprofit title is a pun on the first word — fostering as in supporting, incubating, promoting –and the subject matter includes the foster care system).
Fostering Media Connections, Inc. (FMC) was only spun off from DC's (legal domicile Virginia's) 2001ff "Congressional Coalition on Adoption," (CCAI) which was significant enough I featured it, for years, as a "sticky posts' and it's still on the list of my Top Ten Key Posts.  FMC meanwhile is a noncompliant (Delinquent) nonprofit at the state charity level, active at the Secretary of State level, although it hasn't provided the Attorney General's Office (judging by their registry of charitable trusts) a Form 990 since its FY2013 (!!) YE June 2014
What's this got to do with Education Reform Groups such as CIS?  Well …..  FMC's head honcho/journalist working first under CCAI, Daniel Hempel, was apparently nurtured at USC School of Communications — beneficiary of the Annenberg Foundation/s.
It is also (shown in various newsletters) copying a format used, successfully it seems, by a law professor at University of San Diego for "CAI" (CHILDREN'S ADVOCACY INSTITUTE), which is by way of reference to Robert Fellmeth — also on the board of another foundation/nonprofit grouping (East Coast, West Coast) — First Star (the nonprofit based in DC) and, perhaps the name was First Star in Los Angeles, where the latter was a pun on the word "star" (a primary founder being a actor Peter Samuelson). (Notice listing of Fellmeth of CAI on its board).
"First Star was founded in 1999 as a national 501(c)(3) public charity dedicated to improving life for child victims of abuse and neglect. Since 2011 First Star has pioneered support programs to launch foster children into productive lives and careers through higher education. In 2016, the growth and diversity of First Star's programs required two entities with separately focused governance, and the historical First Star policy work was transferred to First Star Institute.  The amicable relationship between the two organizations builds on First Star's success, and the two "sister" entities share a common lineage."
Our Mission
First Star improves the lives of foster youth by partnering with child welfare agencies, universities, and school districts to ensure foster youth have the academic, life skills, and adult supports needed to successfully transition to higher education and adulthood. We pursue our mission through innovative college-preparatory programs, providing technical assistance to stakeholders, and advocating for policy change."
CAI (USD/Fellmeth) was in effect sponsoring journalism on the topic of Children's Advocacy; working also alongside a group based in Colorado (?) the NACC (National Association of Counsel for Children) with periodic overlap and at least one conference &/or training (conferences tend to include CEU courses, i.e., trainings too) with the "AFCC" I post so much on.
I gathered information (screenprints) looked at this situation surrounding "FMC" and CCAI, as I said, with rapt attention for a day and a half.  Which is to say, I did nothing on any blog meanwhile (unusual for me) and will post soon on the FMC/CCAI connections.
Fellmeth is also associated with an Annie E. Casey Foundation sponsored "JCCF" (existed 1993-2014 at University of Maryland) at its journalism college.  Unlike USC or USD, Univ. of Maryland is a public, state university:
JCCF was launched in 1993 with support from the Annie E. Casey Foundation to create a professional community of practice for reporters whose primary beat was covering children and families. Over 21 years, JCCF offered conferences and fellowship programs to enhance skills and knowledge on a variety of issues, from juvenile justice to preschool education, welfare reform to health care. With support from the Ms. Foundation for Women, the Center created "Beyond The Headlines," an in-depth resource for reporting on child sexual abuse. The Center produced "When a Child Dies," an interactive online training module to assist reporters covering child deaths. And, the Center created "LIFELINES: Stories from the Human Safety Net," which included original reporting and resources for reporting on social work.
References Robert C. Fellmeth at USD and his bio blurb indicates his membership also on "NACC" among other associations:
The First Star/CAI Connections are acknowledged in some of their work product, along with the involvement of yet another Nonprofit, "NACC" (National Association of Counsel for Children) and promoting the Child's Right to Counsel in dependency proceedings.  The emphasis on professionalizing the certification of "Children's Welfare Law" (which was NACC's role), and influence of private tax-exempts featuring "Public/private" partnerships on influencing public policy, as well as NACC's known involvements (conferences) with both NCJFCJ (in Nevada) and AFCC (in Wisconsin, or is it Illinois? dep. on who you believe — the State of Illinois, or AFCC's own tax returns, as viewed from a private-nonprofit's (FoundationCenter) free database and obtained it says from the IRS) … I have already documented earlier in this blog, at times in significant detail.
By the time the acknowledgements are done — how many sponsored professorships and Centers with (or without) associated nonprofits — in general NOT posting their financials, or even EIN#s among the many promotional publications, visual (graphics), audio-visual, and pdf-style sponsored publications, on a typical website. Who would EVER track all the various nonprofit over and beyond the many obstacles put to even correctly identifying them (while referencing them as credits and professionalism) associated with individual board members?  University of Southern California, famous in its own way (since 1880, and right IN Los Angeles — and other campuses in SoCal, and in the state capital, which is "NoCal." — the other end of a geographically very long (in fact the longest in the entire country — take a look at any map of the USA, although I DNK offhand whether Alaska has more square mileage) state. I just found another one today:  "MISC" (Media Institute for Social Change" at USC, referenced by Peter Samuelson of First Star and a few other nonprofits:
In addition to the public/private partnerships comes, typically, with the territory, overlapping personnel on the nonprofits holding public office. ESPECIALLY in the case of California Judicial Council's AOC/CFCC, recently I blogged for its FamiliesChange (Canadian charity Justice Education Society of BC (improperly labeled on CA and at least one other state's (among Maine, Connecticut and Vermont) legal aid (with help from US Congress-supported Legal Services Corporation websites) referrals, featuring significant AFCC-member-authored  books on the resources page) — these promotional and training nonprofits as collaborating cross-jurisdiction and often taking themselves either law firm or other major foundation help also have the resources to conference, publish, convene roundtables, and through private or public university centers, grab the attention and of and mentor new generational of professionals into similar mindsets — before reality hits them. If it ever does.
These combinations of influence are through sheer quantity and because of the unique fiscal opaqueness of much university funding (i.e., locating the money granted to named multidisciplinary centers is a needle in the haystack).  In the case of most important PRIVATE universities, they will be nonprofit, and large enough that the smaller details won't be seen on a tax return OR an audited financial statement for the whole institution.  In the case of public ones, similar situations prevail, in addition to the tendency of public institutions (such as those started originally as "land-grants") a tendency to have related foundations named after them exists.  Without the public's ability to identify funding trails of institutions its tax receipts help support, OR the centers within them to which, apparently, justice and legislation are being outsourced generation after generation now, there is no "JUSTICE" in the sense of even reasonably conflict-of-interest free judgment and lawmaking on behalf of the public benefit.
Example:  I couldn't drill-down "Annenberg Institute for School Reform" at Brown University, after much effort, but did see that grants from other places TO it were granted simply to Brown — not to the separately incorporated entity. Same deal, Center for Cities and Schools at UCBerkeley Browse my Table of Contents Page 2017 for more info). Same deal, (1993ff) "IDVAAC" at University of Minnesota under its School of Social Work, "CEHD" (College of Education and Human Development, formerly College of Human Ecology or similar name…).
---
I saw that Heimpel (Fostering Media Connections) started in part offering a Journalism for Social Change summer fellowship for journalism students.  They are grabbing and mentoring young journalists, getting the involved in (it seems predetermined) SOLUTIONS and justifying 'SOLUTION-BASED JOURNALISM re: the foster care/adoption subject matter.   Looking further, I found this was offered as an =on-line course also through EdX, which is a Harvard-MIT project, whose major source of revenues is certification fees for those who take courses off the platform, which in turns helps build its assets and pay some VERY fine salaries to its board of directors and key employees.
---
---
Next box shows nearby post in my Education Transformation Nonprofit Networking (late 2016-2017) sequence, and its predecessor:
published April 17, 2017 (the day after Easter) at 19,000 words.
Tags (there would be many!) to be added later.
[This] post,
(1) Fund for Educational Excellence. (2) Foundation for Excellence in Education (or ExcelEd).  (3) Alliance for Excellent Education, and (4) ConnectEd (Note the backers) and I just showed (5) Communities in Schools (Remember the subcontractors). Also Consider (6) Brown University's AISR ~Smart Education Systems~ based on Ted [Yale, Harvard]+Nancy Sizer's Coalition of Essential Schools. (case-sensitive short-link ending in "-6pr"),
continues from the bottom of
Three (or Four) Famous, Privately Controlled Nonprofits Who Just Wanna Transform Public Education (and Urban Populations to Practice On (case-sensitive short-link ends "-6iI") (just published, with a long introduction, April 3, 2017 mid-day),
and represents where the writing started after deciding on that title and subject matter.
---
Among other questions, I first remind us (and I have the standing as a parent, former teacher across a variety of systems, and more recently, investigative blogger of nonprofits and public/private partnerships and their self-reporting of programming while concealing, withholding, or delaying until forced to, their books — i.e., holdings (cashflow, etc.) to say this with confidence):
Controlling the education (esp. public school system) = controlling the next generation = controlling the nation, including the revenue-producing options of those same generations.
By "controlling" I mean "restricting" in order to keep most of the nation in its assigned places in society — NOT in the top echelon who control the investments, and steer the systems, and train their own offspring, marrying into each others' families, to continue doing the same generation after generation.
Look for the matching questions I have about this agenda in similar-styled box quote below.  There is a discussion and several paragraphs inbetween.
[topic cont'd. on post listed above]
 ~ ~ COMMUNITIES IN SCHOOLS (begins section), written Oct. 2016.
More communities IN Schools, for the future (global) utopia, which we are supposed to believe is out of love and concern for the poor and disenfranchised.  Recommend suspending judgment while reading organization website until, again, you view the tax returns:
---
Here's another example from a website (blog) visitor, which is how I noticed the organization name "Communities In Schools.org"  Look at the diagram on the website of how the transformation (improvements) take place to build such communities: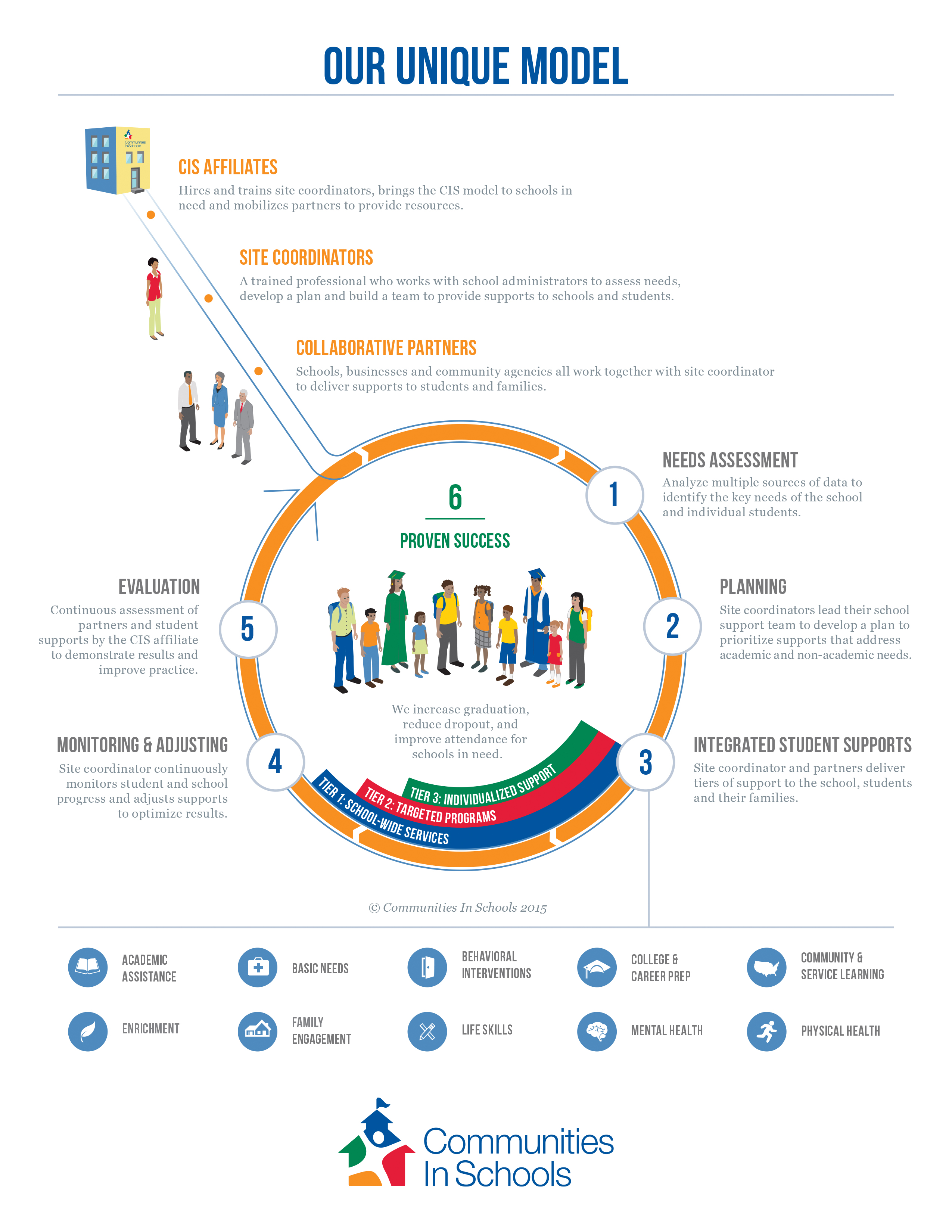 As the diagram shows, the TRAINING, and COORDINATION takes place outside the schools, which is where the private injects into the public according to the "CIS" standard, and with public/private help on the way in, as the details of the model (and websites) show.  See this description:
Our evidence-based approach, adapted to meet each community's unique needs, is the basis for our success. Many children face challenges both inside and outside the classroom. Through a school-based site coordinator, Communities In Schools strategically aligns and delivers needed resources so that students can focus on learning.
Basically, it's serving as a program service delivery for outside sources, expanding a market niche for whoever runs or owns those programs into the public schools, and sure to in the long run, pull down yet more public funds.
The thing is — how many people actually read their own school district's Comprehensive Annual Financial Reports — and how many school districts feature making sure the public has access to them?  The public is ALREADY heavily invested in to the public schools, and not just the parents who have children in them.  Schools are massive undertakings, incorporating major textbook development (and publishers who dominate that field — certain large states like California or Texas also affect others), and they occupy a massive amount of any growing child's life from five years old on — let alone those who want this to start 5 years earlier…
From the CIS website (Founder) page — also visit Our Partners, and Our Funders page for more of the usual participants, plus some.  In "our funders" there is a neat row of 12 "institutional" (mostly foundations) logos which do NOT describe the donation amounts, purposes, or years.   However this does constitute a "we'll scratch your back/you scratch ours" relationship between the nonprofit and the backers.  Among Our Funders, I see Edna McConnell Clark Foundation (a known partner involved in The Greenbook Initiative, wealth comes from an Avon family heiress; I have studied this situation in more detail), also a bank, what looks like AT&T, George Kaiser Family Foundation, and more…   The Our Partners Page includes the CNCS I keep mentioning, as well as Americorps (which itself is apparently part of or overseen by CNCS), the Corporation for Public Broadcasting (I'll bet that's also tax-exempt), Big Brothers & Sisters, YMCA, etc.
The story of Communities In Schools began in the 1970s, when Founder Bill Milliken, then a youth advocate in New York City, came up with the idea of bringing community resources inside public schools – where they are accessible, coordinated and accountable. "It's relationships, not programs, that change children," Bill once said. "A great program simply creates the environment for healthy relationships to form between adults and children. Young people thrive when adults care about them on a one-to-one level, and when they also have a sense of belonging to a caring community."
Stories are nice, but detailed documentation is better.
I see that Communities IN Schools, Inc. seems to be a Northern Virginia (i.e., near DC metro area or possibly in it) corporation, however its Chairman of the Board and President/CEO both have existing and past connections to the State of Nevada (one, currently President of the Board of Education) — which is a conflict of interest.  One is also on the board of "WestEd," (Read the bios!) and Founder Bill Milliken, who started out with YoungLife in the 1960s and only stepped down off this organization in 2004 (his photo still up there, though), it says "served three presidents" (implying public office), and was honored by "Usher's New Look Foundation" which the website isn't courteous enough to link to or explain the reference.  WHO???)
Here's the EIN#, or rather I should say, the EIN#s PLURAL.  Think about this list (I sorted by Total Assets column, obviously) when noticing how many funding partners are also involved.  Hopefully the short list of 557 results all named some variety of "Communities in School" should communicate the general situation, i.e., a franchise-style operation, whether or not it is a legitimate franchise.
Total results: 557. Search Again.
(Click on the column headers to sort.)
ORGANIZATION NAME
ST
YR
FORM
PP
TOTAL ASSETS
EIN
Communities in Schools National Office
VA
2013
990
33
$56,148,386.00
58-1289174
Communities in Schools National Office
VA
2014
990
39
$54,342,908.00
58-1289174
Communities in Schools National Office 

[some comments below this table**]

VA
2015
990
39
$51,376,312.00
58-1289174
Communities in Schools, Central Texas
TX
2013
990
30
$6,775,304.00
74-2369020
Communities in Schools, Central Texas
TX
2014
990
28
$6,688,182.00
74-2369020
Communities in Schools
TX
2015
990
26
$6,095,671.00
74-2369020
Communities in Schools of Georgia
GA
2013
990
48
$5,969,570.00
58-1912923
Communities in Schools of Georgia
GA
2014
990
67
$5,167,207.00
58-1912923
Communities in Schools Houston
TX
2014
990
29
$4,860,247.00
76-0031827
Communities in Schools of Nevada
NV
2015
990
31
$4,184,322.00
88-0292094
Communities in Schools of Charlotte-Mecklenburg
NC
2015
990
40
$4,107,945.00
58-1661795
Those are just a sample of the 557 results nationwide of "Communities in Schools" organizations, in that they bear that organizational name.  The "Nationwide Office" tax return is NOT a group return for subordinates, and mentions none of the others on any "Schedule R"  as "related organizations" — but references affiliates.  Under its "Expenses" for year 2015 were $8.9M "Payments to affiliates" and under Liabilities, a much smaller amount, "due from affiliates."
Communities in Schools National Office (This is YE 2015 <==return).  Look at the tax return to see where most money is coming FROM (Private Contributions — $19M+, Gov't Grants, only $200K, and most revenues are contributions) and going TO (few "Grants" — mostly in Salaries ($6M) and "Other Expenses" (triple that.  Of course I just noted that under "Expenses" were $8M of payments to affiliates.)
One of the officers works 5 hours a week paid nothing (however, the website says she's head of Dept. of Education in Nevada, so presumably is paid from that office).  Another one, also key national leadership, the return shows, has a $405K salary, but what I found interesting is The CIS Founder working 5 hours a week and being paid an annual salary of $172.6K — this man:
Then there the subcontractors, which I will show as the image from Part VIIB, which would be under "Other Expenses" of operation, naturally.  See bottom of this image.  It also shows total salaries ($2.1M + benefits column) for Part VIIA personnel (Directors, Trustees, Officers, Key Employees, Highest Paid, and Former are columns that to be checked for each):
communities-in-schools-natl-office-the-va-org-irs-return-fiscalyear2014-page-8-part-viib-subcontractors-only
---
 ~~ ~ ~ ~ COMMUNITIES IN SCHOOLS (end section from 2016)
Notice names of the contractors (The Causeway Agency, Bridgespan, and the $1.2M contractor, 'Common Catalyst' in Boulder, and types of services.  This year, the count (bottom of image) was "19" paid over $100K. Next year, as I recall, it was only 6.  See earlier related posts on Bridgespan, or as referenced above, other networks focused on education transformation (one of them has a section on CIS as I recall).
Written by Let's Get Honest|She Looks It Up
February 23, 2018 at 9:56 pm
This site uses Akismet to reduce spam. Learn how your comment data is processed.